We are excited to announce that Angell Marketing received several awards in this year's 2022 National Mature Media Awards. Leading the way in senior living, the program honors the nation's best marketing, communication, educational materials and programs presented for older adults. Our agency is honored to receive the Top Senior Living Marketing Award in the industry and be recognized for our promotional efforts, strategies and creativity.
Angell Marketing received a total of six awards in the categories of print advertising, direct mail, logo and letterhead design and website. To break it down, our agency received one gold, one silver and four bronze awards.
2022 National Mature Media Awards – Gold Award
Print Advertising – Ventana By Buckner
Located in Dallas Texas, Ventana by Buckner received gold award recognition in print advertising for its Ventana Life Care Awareness. The community is known for its long-term care and high-rise housing. With enhanced luxury features, the print advertisement is nothing short of details on offerings from the community. As you can see below, it demonstrated a playful copy that emphasized Ventana's state-of-the-art amenities and full continuum of care.
2022 National Mature Media Awards – Silver Award
Rebranding – Emerald Heights
The silver award was given for best logo to a senior community we take great pleasure in working with, Emerald Heights. The community resides in Redmond, Washington, and is front and center of many evergreen trees. Emerald Heights logo incorporates the native trees and illustrates the terrain of wildlife in the community.
2022 National Mature Media Awards – Bronze Award
Direct Mail Campaign – Longhorn Village
Longhorn Village, a retirement community situated in Steiner Ranch and located minutes from Austin, Texas, is recognized for its direct mail invites and received a bronze award for its Hooked-on-You Expansion. The community has run with its success over the years and will be adding more than 50 independent living apartments.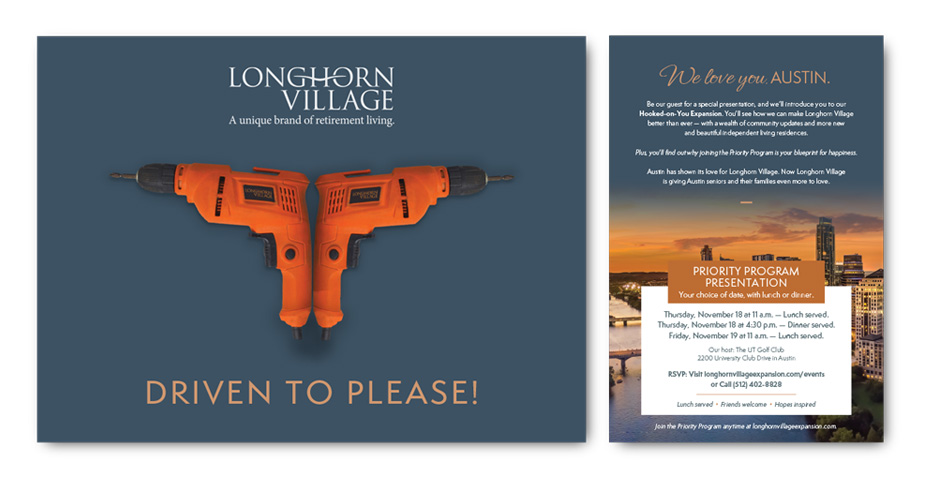 2022 National Mature Media Awards – Bronze Award
Logo Design – The Vered
The Vered, a new senior living residence on the way, upholds a notable community logo design that they can't wait to showcase. The anticipation awaits for old Hollywood and art deco themes and is thrilled to show its residents there is more than what meets the eye.

2022 National Mature Media Awards – Bronze Award
Website – the variel & Emerald Heights
Both Emerald Heights and The Variel, a community based out of Woodland Hills, CA, knocked one out of the ballpark with their website design for web-based and mobile applications. In collaboration with The Variel's marketing developer, and management company, we were able to focus the website on the feeling you get when you live in a vibrant location.
Much like the logo, the Emerald Heights website demonstrates the picturesque feel of the Northwest surroundings.
A panel of marketing experts judged the entries for overall quality in design, content, and creativity as well as their relevance to the senior market.
"It is an honor to be recognized for the work we do at Angell Marketing," said Wynne Angell President and Founder of Angell Marketing. "Even though we know our clients appreciate what we do for them, it is rewarding to be recognized by others in the industry."
We could not have done it without the bright individuals on the Angell Marketing team. Thank you for all of your hard work!
We are a full-service agency available to help you execute your marketing goals. Want to find out more information about our services? Let's chat about your marketing needs!