Those who are on the Angell Team share some important characteristics. We are driven by gauging the results of our work, believing that knowledge drives strategy. We pride ourselves on innovative thinking and delivering the kind of truly on-target creative that surprises and delights our clients. We know that by carefully listening to our clients and their customers we'll better understand what they both really want and need. We believe that integrity, loyalty, and passion form the foundation of our relationships with our clients, our partners, and our Angell Marketing team members. That's also why we are firmly on the side of diversity, equality, and inclusion.
Oh, and we also believe that part of loving what we do means actually having fun doing it. We make a point of sharing that fun throughout our company and in all our relationships.
If all this sounds like a work culture you'd like to be a part of, please review our positions available and take the next step. We look forward to hearing from you.
Open Positions
Advertising Agency Account Executive
Location: Phoenix, AZ Department: Account Services Type: Full Time Min Experience: Mid Level
Overview
A niche marketing and advertising agency in Central Phoenix, Angell Marketing serves senior living and healthcare clients throughout the country. And we're growing, so we need a full-time Advertising Agency Account Executive talent.
The ideal candidate has a great attitude and is professional, organized, has excellent communications skills and is self-motivated. The ability to multi-task, be pro-active and follow through on all assignments and projects is a must. You will play a very important role for developing and executing marketing programs by leading the day-to-day client relationship, initiating work with our creative team and vendors, and managing timelines and budgets. The ideal candidate will possess a desire to grow with the agency, and possess strong leadership, presentation, and interpersonal skills. Opportunities may include travel to client meetings and industry conferences and assisting with new business development.
Responsibilities:
Experience working directly with clients to manage plan development, project deliverables and deadlines
Ability to interact and communicate with senior management, colleagues, vendors, and others to secure and coordinate program/project communication deliverables
Experience drafting, estimates, presentations, creative work orders, project timelines
Detail-oriented with strong organizational skills
Ability to manage multiple complex projects simultaneously
Understands social media platforms
Technologically adept at the Microsoft Office Suite programs and project tracking and billing software
Ability to convey a professional image, as well as effectively represent the organization as appropriate internally and externally
Essential Skills:
3 – 5 years of experience in an advertising agency
Administer software project information input
MS Office (Word, PowerPoint, Excel)
Excellent communication and interpersonal skills
Organized and ability to multi-task and work with minimal supervision
Bachelor's degree in marketing, advertising, or a related field
Art Director
Location: Phoenix, AZ / Remote Department: Creative Services Type: Full Time Min Experience: Mid Level
Overview
Angell Marketing, a premier senior living community marketing agency, is searching for a mid-level Art Director for our Phoenix office.
Responsibilities:
Assist the creative director in the development of brand identities and supportive brand guidelines, marketing collateral, direct mail, print advertising and community websites (sitemaps, wireframes, page designs). Coding experience not necessary.
Ensure brand consistency and high design standards across all platforms to promote uniformity.
Preparing and editing files for pre-flight prep as well as editing adjustments post presentations and feedback.
Help to produce internal sales and marketing material to promote the agency.
Essential Skills:
3-7 years of previous experience as an art director in an advertising, branding or marketing agency.
Proficient in Adobe Creative Suite (Illustrator, InDesign and Photoshop).
A strong, diverse, up-to-date portfolio that demonstrates beautiful and strategically creative solutions.
Ability to collaborate with different teams on projects and designs.
Experience in senior living community and/or hospitality marketing a plus.
Competitive benefits, including 401k, health, vision, dental and life insurance; EOE
The opportunity to make a positive difference in older adults' lives
Respect for balanced living, with flexible work schedules and accommodations for traffic, babies,
pet care, home repairs, and life's unexpected surprises as needed
Hybrid model of in-office and remote work at home
A tight-knit team that will collaborate with you, support you and challenge you to grow
Parties that tastefully celebrate holidays and special events
A job you'll love
We work hard for our senior living clients. But we're not all work. We're also passionate about things like volunteering, partaking in happy hours, heading out to off-the-beaten-path destinations and spoiling our pets. (Collectively, we have 18 dogs, 15 fish, 11 cats, 3 snails, 1 bird, 1 desert tortoise and 2 sourdough starters.)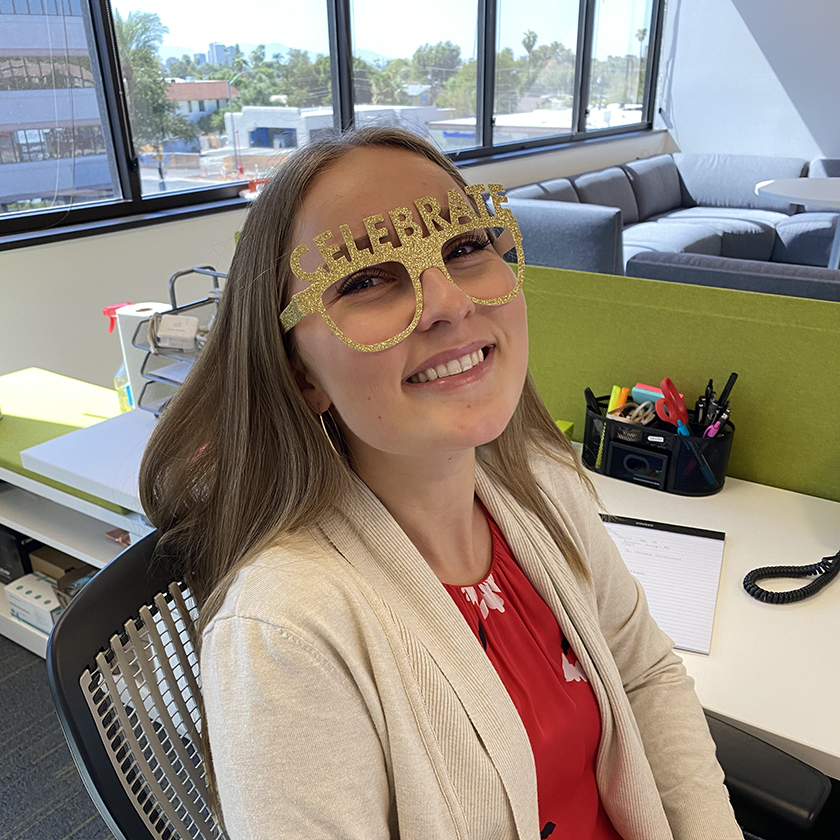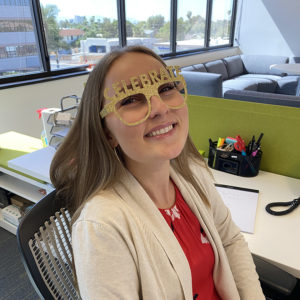 Get to know us. We think you'll like us. Our clients will tell you they do. They'll also tell you they like the results we get them.