Engaging VIP Program members to serve as brand ambassadors is a key component of any membership program. For The Variel, a developing senior living community, it was an opportunity to build excitement for the new community as well as generate new leads.
The ViP program
The Variel is a developing Life Plan community in Woodland Hills, California. Building in an affluent LA county neighborhood, The Variel is built for today's active older adults—those both younger in age and in spirit.
The Variel offers a full range of services and amenities. Upscale amenities include a fitness center and juice bar, a pool, theater, and a salon and spa for residents to enjoy.
The community is currently under construction and is slated to open in mid-2022. A VIP priority program was established to build momentum for pre-sales as well as generate a list of those interested in moving in. As a program member, the member receives a number of benefits, including:
early access to information
best value on residences
priority pick of residence, floor plan, and location
access to members-only events
the opportunity to help shape the lifestyle, activities, and dining menus of their future community
Engaging VIP Members As brand Ambassadors

The community's VIP membership program had successfully generated 90 VIP members. Fun members-only social events like movie screenings and drag queen bingo engaged members and provided them with a fun opportunity to kickstart their community lifestyle.
Meanwhile, to continue to grow the program, the marketing team held educational prospecting events that walked prospects through the benefits and details of the program. In an effort to address staffing limitations, we combined VIP events with prospecting events. To help sell the program, we encouraged these satisfied VIP members to share their experiences and thoughts on why they joined. Our goal was to inspire the current VIP members to engage as brand ambassadors and invite them to have an active role in creating their community of residents.
So to encourage our members and prospects, we took them to the Big Island. That's right, Hawaii— only sort of. We brought 'ono li'ili'i (a little taste) of Hawaii to them. Delicious food and live entertainment would serve as an incentive for both members and leads as well as a representation of the entertainment residents could expect after moving into The Variel.
To get the word out, we put response-generating tactics to good use.
Getting the Word Out
We put forth a comprehensive integrated effort to reach both leads and VIP members. A vibrant direct mail piece invited both leads and prospects to join us for a luau. The invite highlighted the energy of the event with bright colors and tropical elements.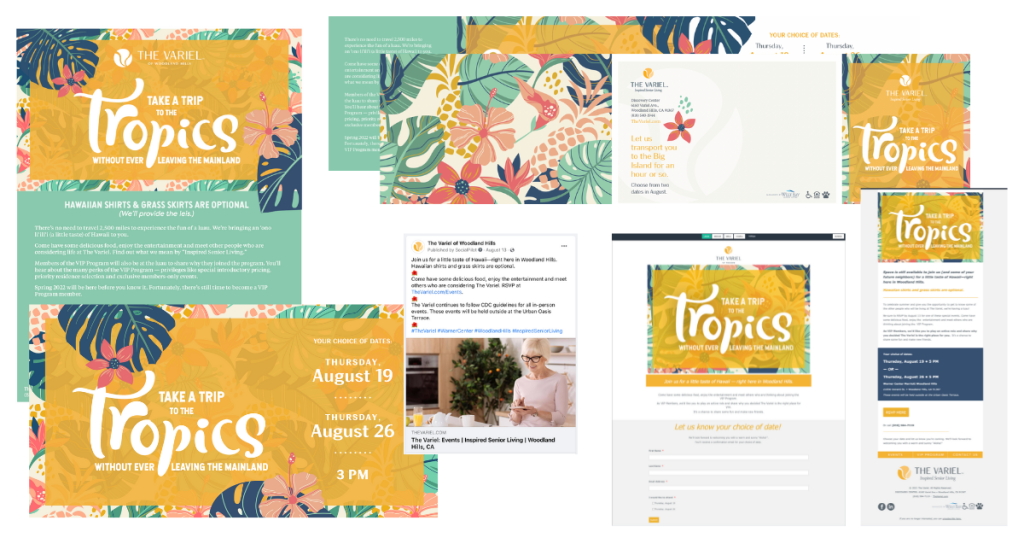 Leads and VIP members received a series of accompanying complementary emails. Leads were sent a follow-up email encouraging them to RSVP on the community's website. Whereas, VIP members were emailed a direct invite to the event that directed them to RSVP on a landing page. This email encouraged VIP members to contribute to building their neighborhood of residents. A complementary landing page housed an RSVP form for VIP members to easily respond. This email yielded a 58% open rate and a 2.15% conversion rate for RSVPs.
The Variel's Facebook page also promoted the event, encouraging attendance and reiterating the lifestyle of the future community. We created a digital flyer for the marketing team to distribute directly to interested parties as well.
results from the Trip To The Tropics (Hawaiian Skirts Optional)

VIP members and future members swayed to live music and enjoyed delicious food. The lively atmosphere gave the attendants a little taste of all that the community's lifestyle will offer as well as an opportunity to meet potential neighbors and encourage non-members to join the party.
The event produced a 63% response rate for VIPs members and a total of 105 attendees (both prospects and leads) for an overall 1.2% response rate. The effect of combining prospective events with excited VIP ambassadors led to a 100% increase of VIP depositors in 2 months compared with the previous 7 months.
Connect With Us!
We'd love to help your community see the results you're looking for. Connect with us here to get the conversation started. Want to stay up to date on news and happenings? You can also connect with us on Facebook and LinkedIn.
March 22, 2022
When it comes to marketing your senior living community, it may be tempting to try to be everything for everyone. It can feel limiting to not share a whole list of services and amenities in a…
March 1, 2022
Has your sales and marketing team ever needed to push to meet year-end goals in the last stretch of the year? It's stressful, challenging to make up for lost time, and doesn't make for a happy…