The formula behind a successful direct mail campaign can't be replicated for every unique mailer. But with careful consideration of each of the following direct mail elements, you're that much closer to a successful recipe.
Though, after a year where digital tactics took precedence in senior living marketing, you may be wondering if direct mail is still an effective medium for your marketing strategy?
According to the USPS, 68% of marketing respondents said combining digital and direct mail increased website visits. Additionally, 60% said combining digital and direct mail increased ROI. When used in tandem, the effectiveness of both marketing tactics increases.
Creating strong direct mail campaigns is as important as ever—especially in supporting these other integrated efforts. Direct mail can help drive traffic to a website, generate leads, or support conversion goals. To do so, these are the direct mail elements to consider to create a successful direct mail campaign.
Size & Format
Determining the size and format of a mailer is one of the first steps as it will affect other choices like design, visuals, and copy later on. While budget is most likely an important part of the decision-making process, it shouldn't be the determining factor. An up-front investment in your project can yield results down the line.
The size and formatting of a mailer should vary from project to project. Otherwise, your product can become stagnant and won't stand out to your audience in their pile of mail. This can be done by varying up the sizes, number of folds, format, or even different ways to open the mailer (for example, left to right or top to bottom).
First, establish the goal and message of the mailer. Examples include:
Encourage your leads to attend an event
Ask them to fill out a survey
An educational mailer about your service offerings
This answer will drive the specific format and size. For example, an educational mailer will need a larger format to accommodate the content. On the other hand, an event mailer is a small snapshot and requires less content to explain.
Common Senior Living Direct Mail Formats:
Folded Self-Mailer:

A folded self-mailer is an affordable mailing option with panels that are folded and sealed. This provides adequate space for mailers with larger content needs. However, it is easily identifiable as a marketing piece by your audience, so it is not always appropriate for every direct mail campaign.
Postcard:

Whether an average postcard or oversized, the main benefit of a postcard is that a prospect or lead can quickly see the design and content without opening an envelope or needing to engage with the postcard. An enticing graphic or visual can easily pull your reader in to take a closer look—without the decision to open an envelope. Even while flipping through the mail, a lead can recognize your brand with minimal effort, which leaves a lasting impression.
Card & Envelope:

A card with an envelope is an escalated format for a mailer. This can be used for an upscale event or personal touches, such as for sophisticated or holiday events or personal letters from a marketing and sales member. We recently tested the response rate with envelopes vs. self-mailers for one community's target audience. We'll get more into this later in the blog.
Additional Mailing Factors:
Elements like stamps and business reply mail (BRM) are other factors to consider when deciding the format and how a lead or prospect will receive your content.
Stamps: The type of stamp used can sway a lead or prospect to engage with your mailer. While it may seem like an insignificant factor, the look of a stamp can give a certain perception right away. A printed stamp implies a mass corporate mailer, whereas an adhesive stamp provides a personal touch and may entice a lead to take a look inside. However, stick-on stamps are a more expensive option.
Business Reply Mail: Also known as BRMs, business reply mail is often used for surveys and fulfillment pieces like financial planning guides or floor plan brochures. Simply put, BRMs are a soft sales ask. They provide your audience with an opportunity to reach out without the pressure of scheduling an appointment or attending an event. This can lead to engagement from leads who have been hesitant to respond to other traditional mailers or tactics. Because of this, it's a useful tactic to include in a yearly marketing strategy, despite its expense.
Handwritten or Printed Addresses: Another way to provide a personalized touch is by handwriting the name and address onto the envelope. This may be an option for a small number of mailers used for an invitation to an event or a personal letter from a sales representative.
Design Elements
Like the size and format of the mailer, the design should vary as well. An overused design can do more harm than good by exhausting your list with repetitive material.
Structure:

The content of the mailer will determine the design and structure. A more structured design will be more effective for an educational mailer. Whereas, for example, a cooking event will call for more playful design elements.
Branding:

While the design varies from mailer to mailer, the branding must stay consistent. The design needs to incorporate branding elements to ensure that the mailer is easily identifiable for your target audience and has a consistent look among all tactics to establish a brand identity.
Text:

When choosing text for senior living, it's important to consider your audience. The text size should be large enough for your audience to easily read your copy and the font legible for those with vision difficulties. Curly or hand-written fonts that blend letters together will likely be difficult to distinguish.
Colors:

Colors are also important to consider for aging eyes. Lighter colors and certain color combinations may be more difficult for older eyes to read and recognize.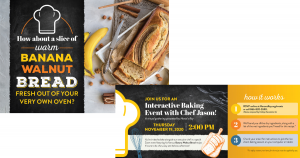 Legal Elements:

Consider what logos need to be included. For senior living, this often includes the Equal Housing Opportunity and Americans with Disabilities Act logos as well as community branding and management logos. In addition, the included representation of models/residents should ensure your community is compliant with fair housing laws.
Copy Elements
When it comes to copy, the adage less is more usually applies. It's important to remember the purpose of the mailer and how much information is needed to encourage your audience member to complete your desired action. It's generally a quick snapshot and should entice your readers to learn more, call for more information, etc.
1. What is the purpose of the mailer? This will determine if the tone is educational, sentimental, whimsical, etc.
2. What is the tone of the community? The overall content tone should align with the community's brand and identity.
3. Who is your audience? Know your audience and how they prefer to be spoken to. For example, if you have an outdoorsy lead base, your tone and word choice can reflect this in your copy to relate to your audience.
Terminology:

The terminology used should be consistent with your brand messaging and positioning as well as support and educate your audience. With the misconceptions surrounding the senior living industry, the lexicon used in everyday conversation perpetuates terms such as facility and nursing home, confusing older adults about the industry as a whole. Read more here about the power of word choice in senior living: The Power & Influence of Words in Senior Living.
Call To Action:

Be sure to include a call to action—what you want your readers to accomplish from the mailer. Without a call to action, your recipients aren't guided to complete your goal or make any conversions. This would also make it difficult to track the success of the direct mail campaign as a whole.
Some Common Call To Actions:
RSVP
Call to learn more
Request a guide, brochure, information, etc.
List Management
Good data into your CRM = good data out. Before even creating a mailer, your CRM management has already affected the success of a campaign.
Tracking Inquiries: Remembering to track inquiries is vital for both the sales cycle and for your mailing list. Adding each new individual into the CRM, and consequently, a mailing list, will introduce them into your community's marketing strategy and increase touchpoints within their sales journey. Read more here about the benefits of tracking inquiries for a senior living community.
Accurate Information: A mailing list is only as clean as its CRM. This means only inputting accurate and complete information and excluding partial information. Otherwise, your mailing list will be full of Mom Smiths and partial mailing addresses, which will never reach your desired recipients.
Keep An Up-To-Date CRM: When a mailing house receives your list, they will scrub your list against the national change of address and deceased individuals database. Updating your CRM with this information will increase the efficiency of the next mailer. Additionally, it's cost-effective for a community since money won't be spent on individuals who will never receive the mailer. This will also reduce offending deceased individual's family members or new homeowners who may incorrectly receive your mail.
Collect Data For Integration: Adding an integrated element to your mailer will increase your likelihood of conversion rates. Cross communicating with your audience across platforms increases exposure to the message and the likelihood that they'll respond or take action. Examples of this include sending an accompanied email as a reminder to RSVP to a direct mail event invitation (and posting about it on social media!). Therefore, with each address entered into your CRM, the sales and marketing team should be asking for an email address as well.
Integrated Campaign
The campaign shown here combined social, direct mail, and email to promote a downsizing/moving event for a Northwestern community.
After surveying the target audience and finding that a big challenge for them was downsizing, this campaign aimed at providing practical tips to downsizing and positioning the community as a trusted resource for its lead/prospect base.
The email open rate was 37.6%, and the combined efforts lead to an RSVP response of over 140 (avg. for the community is ~20).
Timing & Drop Dates
The timing of the maildrop depends on the purpose of the mailer. For an educational mailer or fulfillment piece, the timing is likely flexible since there is no strict deadline for your audience to receive the mailer.
However, for an event or survey with a deadline:
Provide the audience with plenty of time to complete your call to action. This is typically 2-3 weeks, depending on the markets and type of event (i.e., virtual vs. in-person).
If two or more event dates are provided as an option, offer different weekdays to accommodate someone who may have a weekly scheduled event (for example, bridge every Tuesday night).
Test With A Mix Of Direct Mail Elements
To understand what is effective within your market and demographic, it's important to include testing in your strategy. When testing your product, only change one variable at a time. Otherwise, it's difficult to pinpoint which variable caused the change in results. You'll also need to keep track of which segment of your list is getting which product. That way, you'll be able to compare the two elements to see which was more effective.
Examples Of Testing Variables:
Varying the color of BRM
Envelope vs. No Envelope
Handwritten vs. Printed Addresses
For example, depending on your market and event, it may be valuable to test the response rate of envelopes vs. self-mailers. One of our recent mailers did just this with a newer, upscale target audience. The mailing list was segmented and delivered either a see-through envelope or a self-mailer invitation. The envelope mailer had a 50% higher response rate. Meaning, for future mailers, our target audience may resonate more with higher quality pieces and may reward the community's upfront investment with a conversion.
Let's Start A Conversation
We understand there's a lot of direct mail elements to keep track of for a successful campaign, which is why we're ready to help. With over 15 years of direct mail experience exclusively for senior living, we understand the ins and outs of a successful campaign and how to reproduce the recipe time and time again. Even with changing trends, we are always creatively adapting to meet our clients' needs and the new senior living audience. Our senior living experience helps inform each decision involved in a direct mail process, so our clients are always getting tried and true results.
Let's talk to see how Angell Marketing can help deliver your direct mail needs. In the meantime, take a look at our previous work and connect with us on LinkedIn for agency updates and senior living insights.